Northwest Dog Links
And those for Alberta & British Columbia too
About Northwest Dog Links
---
Home | About | Breeders | Clubs | Rescues/Shelters | Events | Businesses
---
Northwest Dog Links was created and is maintained by me, Jeff Wykoff. I live in Lewiston, Idaho and am a web authoring student at Lewis-Clark State College. Although I have always liked dogs, I can attribute much of my recent enthusiasm toward these wonderful animals from being around my wonderful girlfriend, Diane Davis, and her terrific daughter, Jordan. They are passionate about dogs and are loving and caring owners of two borzoi and two shelties. Diane shows her borzoi and one of her shelties, but all four of those dogs are absolute treasures that are fun to have around. Diane would like to start her own kennel in the near future and has aspirations of becoming a professional handler.
The idea for Northwest Dog Links started one day when I was searching for websites that belonged to breeders in the northwest. I noticed that there were quite a few sites that had listings of breeders, some of which included websites, but none of the websites were strictly for breeders that had websites. I also noticed that there weren't that many sites dedicated solely to the entire northwest. I was born and raised in Eastern Washington and Northern Idaho and in my opinion, there is no other place on earth that is better to live at than the northwest. I then took it upon myself to find as many websites as I could that belonged breeders in Idaho, Montana, Oregon, and Washington, as well as British Columbia in Canada since there are probably many people from this part of the United States who attend doggy related events up there.
The ideas that eventually followed were to include northwest links for other categories such as clubs, rescues, shelters, events, merchants, and different types of service providers. Shortly after the site was launched, Joanne Adams, who owns a kennel called Hi-Valley Shelties in Wyoming, asked if Wyoming kennels could be included. While my first reaction was to say "no, I'm not changing this", I took a look at a map and thought long and hard before determining that Wyoming was actually more a part of the northwest than it was the southwest or midwest. I then added them, as well as Alberta, Canada, since it would be easy for some people around here to attend a function there.
Thanks to Amy Balthrop, who is the webmaster & web designer for the USRCC, Lead Me On, and Synesthesia websites, I was reminded that a substantial percentage of the overall population in Utah is closer to Wyoming and Idaho than it is to any other state and included them as well. I also decided to include Alaska, since it is physically more north and west than any other state in the United States, and they don't really have any other region to associate with. As it stands now, the areas that are covered in this site are shown below: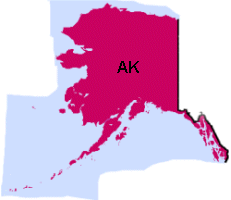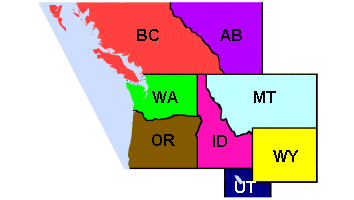 There are no plans to expand on this. As far as I'm concerned everything east of this area is the midwest, everything south is the southwest, and although I could be wrong, there probably aren't enough people in the Yukon and Northwest Territories to worry about them. Besides, my website, my rules (HAHAHA)!
Anyway, I do have a lot of people to thank for this site. I dedicate this site to Diane and Jordan, whose love for dogs is exceeded by nobody, as well as their dogs Whitney, Diva, Lance, and Gracie, who make up quite an affectionate quartet. I thank Sam Anderson of Anya Basenjis in Bellingham, WA. I sent her an email asking her where she was located at and then she followed the progress with great interest. Once I launched the site and it met with her approval, she passed on the site to thousands of people. I also thank each of you who have provided me with links that are appropriate for this site, as well as ideas to make this unique site even better!
The next time that you are at a dog show, either look under borzoi for Meadowcreek Light in the Sky or Morgandell Moondust Diva, or under Shetland Sheepdogs for Taneum Hill Sir Lancelot. If they are listed make your way over to one of those show rings sometime and say 'hi' to one of the pretty blonde gals who will be showing those dogs. If I happen to be at the show, I will more than likely be close by and you can say 'hi' to me too. In the meantime, please keep the links coming so that all the pages are filled with links!
---
Please send any comments or any links that you think are appropriate for this site to
Jeff Wykoff, Webmaster.
12/14/01